KaltererSee Peterleiten Schiava
2022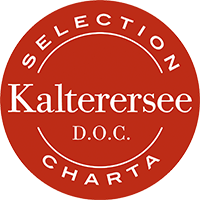 Vine variety
: 95% Grossvernatsch + 5% Lagrein
Description
: It is a classic and old blending about Grossvernatsch, Lagrein and other old varieties already planted in the vineyard. It is a fruity and complex wine, and it convinces by its gentle and amenable character. 
Position
: This is our oldest vineyard with 90 years old vines directly on the lake of Caldaro. Peterleiten is the name for the selection of the ripest grapes in this vineyard.  
Land
: Loamy, calcareous to sandy land. 224m sea level.
Harvest
: End of September.
Yield
: Approx. 80 hl/ha.
Development
: Mechanical removal from the stems, traditional mash fermentation in stainless steel tanks at controlled temperature. Juice extraction is carried out when fermentation is completed in order to assist the biological acid degradation. When the BAD is completed this Grossvernatsch is ready to be prepared for filling. Except in years in they we need a maturation in wood.
Shelf life
: At least 3 - 6 years
Serving temperature
: 14-16 °C.
Food recommendation
: It is a wine for in between. Its strength is its adaptability to food, to tapas and typical South Tyrolean dishes such as bacon, dumplings, Schlutzkrapfen, Surfleisch and homemade meats with Sauerkraut, buckwheat "Riebel", but also white meat and mild cheese and even to fish. It is a flexible and a particularly adaptable, light red wine.
RECYCLE ME - GL 71 BOTTLES - CAP C/ALU 90 CORK FOR 51
other wines of this selection